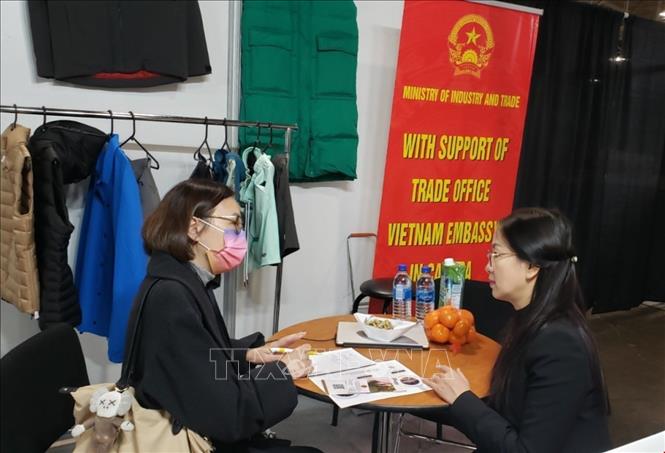 Ms. Tran Thu Quynh, Commercial Counselor, Head of Vietnam Trade Office in Canada provides international partners with an overview of Vietnam's textile and garment industry. Photo: Nguyen Tuan/VNA reporter in Canada
According to Canadian data, Vietnam's textile and garment export turnover to this market in 2021 will reach about $1.2 billion, up 40.8% in the period 2018-2022 and is one of the very few countries in the world. have such a high turnover rate. By making good use of the Comprehensive and Progressive Agreement for Trans-Pacific Partnership (CPTTP), Vietnam's total textile and garment exports to Canada could reach $1.5 billion in 2022. However, According to Ms. Tran Thu Quynh, Trade Counselor, Head of the Vietnam Trade Office in Canada, in order for Vietnam's textile and garment export to Canada to grow sustainably, Vietnamese textile and garment enterprises need to have a strategy to reduce carbon emissions. and circular production, using recycled textile materials and saving energy, clean energy. In addition, businesses need to update new certification systems in the textile industry and comply with the reporting regime prescribed by customers.
Talking to the Vietnam News Agency correspondent in Ottawa, Ms. Tran Thu Quynh said that the Vietnam Trade Office is implementing a market approach aimed at promoting Vietnam's sustainable and circular textile production capacity and choosing businesses to invest in. industry has LEED certificate (the international system of standards for design leading to the leading energy and environment standards) to introduce to Canadian partners.
On average, Canada has about 60,000 tons of textile waste each year. Used clothes make up about 7% of Canada's total plastic waste, making it the third largest source of plastic waste after packaging and used cars. In an effort to reduce plastic waste and CO2 emissions, Canada is aiming to develop a circular, sustainable fashion and textile industry. A recent study by Fashion Takes Action Canada shows that Canada has enough capacity and input to develop the renewable textile industry. In the near future, Canada will develop mechanisms to reduce textile waste, including requiring cities to make mandatory statistics of textile waste and implement textile waste classification. In addition, stores (brands) are responsible for developing second-hand clothing exchange programs at stores within the framework of the EPR (Extended Producer Responsibility Program) program. The textile labeling law will also be revised to encourage recycled fiber content instead of "new materials only" and to introduce tax incentives for products using recycled fibers.
It can be affirmed that the trend of "greening" the textile and garment industry is inevitable, forcing Vietnamese businesses to make efforts to implement for sustainable development. Notably, with Canada's need to diversify supply, the markets of India, Indonesia and Sri Lanka are emerging as very strong competitors thanks to their ability to complete high-difficulty items. This is also another challenge for Vietnamese textile and garment enterprises.
At the textile and garment sourcing fair taking place at the Toronto Convention Center (Canada) from November 7-9, the Vietnamese booth provided international partners with an overview of the industry. Vietnam's textile and garment industry towards technological innovation and environmental friendliness; at the same time, encouraging major textile and garment brands of the North American market to be interested in the opportunities offered by the CPTPP in connecting textile production and supply chains with the Vietnamese market. This is the largest fair in North America, held alternately every year in Toronto and Miami, and is also the first textile fair to be reorganized in North America since 2019. At the fair, Trade The Vietnam Service also had a working session with the President of the Canadian Textile and Apparel Federation to exchange directions for cooperation between Canada and Vietnam in the field of recycled textiles, training for circular production conversion for Vietnamese enterprises. and organize customer groups to buy goods into Vietnam.
After the COVID-19 pandemic, with the full reopening, Canada's import demand for textile products increased sharply compared to 2021. The total market size of Canada reached about 5-6 billion USD/ year for the group of knitted garments and $4-5 billion for the group of non-knitted garments. According to industry experts, the room for Vietnam - the world's "textile power" - to increase exports to this market is still quite large, although the competitive pressure will not be small.
Huong Giang (TTXVN)
https://baotintuc.vn/kinh-te/det-may-viet-nam-can-xanh-hoa-de-tang-truong-ben-vung-tai-thi-truong-canada-20221108061050928.htm
baotintuc