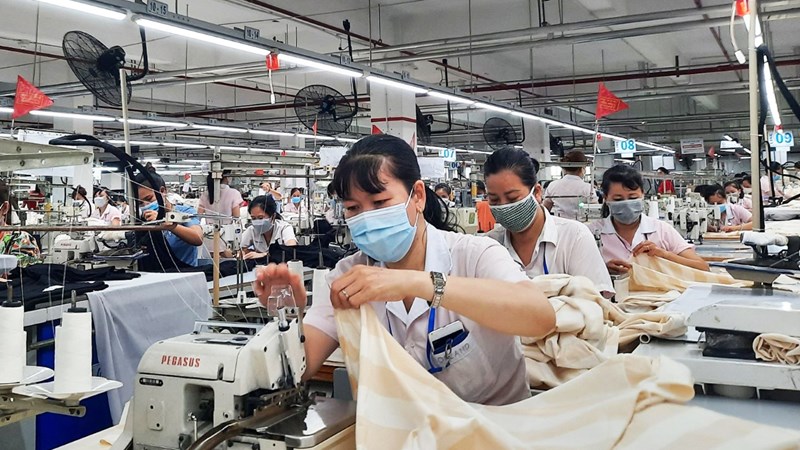 Efforts to take care of Tet for employees. Source: ITN
The 2022 Lunar New Year is approaching, when employees are looking forward to Tet bonuses in the hope of a full Tet, businesses are straining to overcome difficulties due to the impact of the COVID-19 epidemic to take care of Tet for workers, in order to retain workers after Tet.
Tet bonus 30 - 50% off
Affected by the COVID-19 epidemic in the past time, businesses have faced many difficulties, even exhaustion, especially in the southern provinces and cities. Faced with this situation, many employees are worried that there will be no Tet bonus or very low bonus.
According to the assessment of the Labor Confederation of Ho Chi Minh City. In Ho Chi Minh City, this year's Tet bonus is down 30-50% compared to last year. In particular, the bonus level of the textile, garment and footwear industry - the industry that uses a lot of labor will decrease by 30%. Many small businesses in the industry give Tet bonuses below 4 million VND.
Mr. Hoang Ngoc Minh, an employee of a business in Ho Chi Minh City. According to Ho Chi Minh, in the past time, due to the influence of the epidemic, especially when the city implemented the distance according to Directive 16 to prevent the epidemic, causing sales to decrease, the company also cut 50% of the monthly salary of employees. pellets. Although there has been no official announcement, Minh and many other colleagues have determined that this year's Tet bonus will be reduced. Working at a garment enterprise, Ms. Tran Thi Tu also said that the company has announced that it will try to give Tet bonuses to employees, but it is expected that the bonus will be lower than last year.
At the recent "People ask, government answers" program, Deputy Director of the Department of Labor, War Invalids and Social Affairs of Ho Chi Minh City. Ho Chi Minh City, Huynh Thanh Khiet, reported that the Tet bonus report of more than 1,000 businesses employing about 175,000 workers in the area shows that more than 50% have difficulties when giving Tet bonuses to employees.
Vice Chairman of the Vietnam General Confederation of Labor Ngo Duy Hieu also said that, through the General Confederation, this year most businesses still coordinate with trade unions to get a guaranteed basic salary and bonus for employees. labor. However, there are still some businesses because of difficulties that the salary and bonus do not meet the expectations of the employees. This is also the reason that in many places, employees have stopped working to ask businesses to adjust the bonus level.
For example, in mid-December 2021, knowing that this year's Tet bonus is only 60% of that of last year, hundreds of workers of Freetrend A Co., Ltd in Linh Trung II Export Processing Zone, City. Thu Duc, City. Ho Chi Minh City stopped production and demanded an increase in Tet bonuses. While workers asked for a bonus equal to last year, the business side announced that it was difficult to meet, because the COVID-19 epidemic caused the factory to stop production for nearly 3 months, some months were moderate, the annual production plan was not completed. , profits decreased, so Tet bonuses were 40% lower than before COVID-19 appeared.
Share, restore production together
According to a representative of the Vietnam General Confederation of Labor, due to the COVID-19 epidemic, in 2021, both businesses and employees will face difficulties, so if the Tet bonus still counts for the whole year, it will be a big challenge for businesses, but If the reward is less, it will be difficult for employees.
Chairman of the City Textile, Embroidery and Knitting Association. Ho Chi Minh Pham Xuan Hong also said that, for a long time, manufacturing enterprises across the country, especially in Ho Chi Minh City, have Ho Chi Minh City faced many financial difficulties, exhausted cash flow due to late penalties for orders, high production costs, as well as costs from "3 places", COVID-19 testing...
However, most employees do not have savings, so they have high expectations on Tet bonuses to add an extra spending. Therefore, businesses need to calculate reasonable Tet bonuses to motivate employees; On the contrary, workers need to share difficulties with enterprises, the immediate goal is to work with enterprises to restore production, in order to ensure a sustainable income.
Tet bonus is not only a motivation for employees to feel secure in production, but also a factor for them to stick with the business for a long time, especially in the current context of labor shortage. To ensure that all workers have Tet, Vice Chairman of the City People's Committee. Ho Chi Minh City Duong Anh Duc has requested that the city's Department of Labor, Invalids and Social Affairs continue to supervise the payment of salaries and Tet bonuses for employees.
At the same time, requesting departments, branches and localities to promptly support businesses facing difficulties due to the impact of the COVID-19 epidemic that are unable to pay Tet wages and bonuses to workers; to prevent collective labor disputes, strikes, and layoffs. Organize to take care of workers and students who cannot return to their hometown to celebrate Tet. Timely and fully implement the regimes and policies on taking care of Tet to difficult situations due to the impact of the epidemic, ensuring that every home and everyone can enjoy the spring and welcome the New Year.
https://tapchitaichinh.vn/tai-chinh-kinh-doanh/thuong-tet-dong-long-vuot-bao-covid-344604.html
tapchitaichinh