Textile and garment is one of the industries that are classified as subject to environmental risks and need to be assessed when granting credit.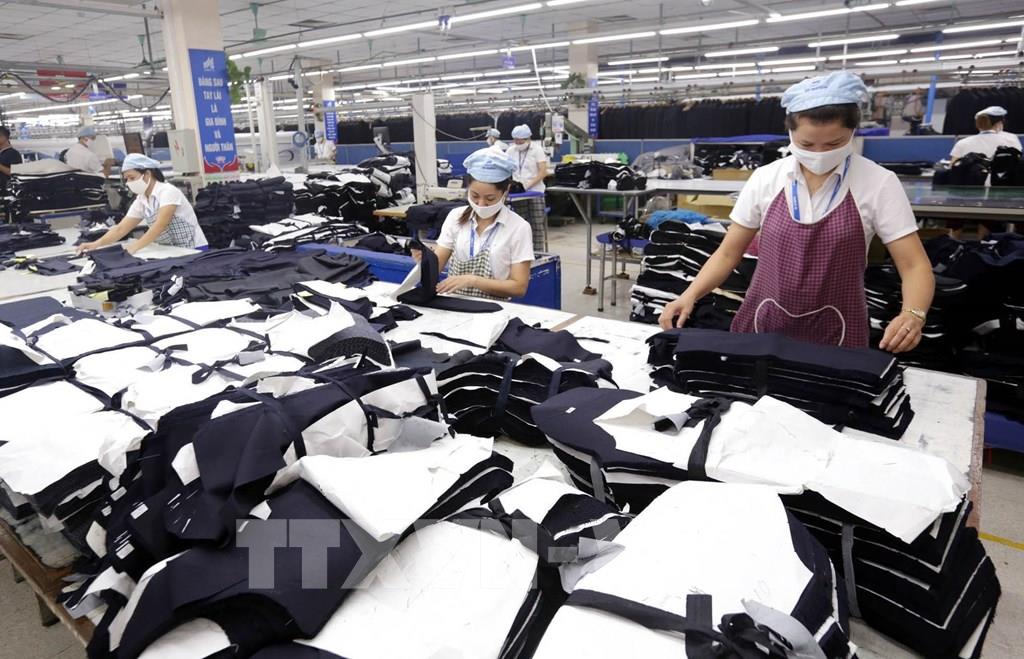 Manufacture of garments at the Shirt and Veston Factory of the 10 Garment Corporation in Sai Dong, Long Bien District, Hanoi - a unit of the Vietnam National Textile and Garment Group (Vinatex). Photo: Anh Tuan – VNA
This is the statement of Dr. Nguyen Quoc Hung, General Secretary of the Vietnam Bankers Association at the workshop on Assessing environmental and social risks in credit granting activities for Vietnam's textile and garment industry, taking place on January 12.
According to Dr. Nguyen Quoc Hung, the textile and garment industry has for many years been a key export industry of Vietnam, however, it is also considered as one of the economic sectors with a high level of environmental and social risks compared to other industries. Because the production process needs to exploit, use and discharge a large amount of water, and at the same time use a lot of energy for heating and generating steam, which leads to impacts on water resources. water and contribute to increased greenhouse gas emissions.
Therefore, the textile and garment industry is among the 20 economic sectors that have been carefully assessed by credit institutions for environmental risks when granting credit under the guidance of the State Bank in the Environmental Risk Assessment Manual. and society, issued in August 2018.
Dr. Nguyen Quoc Hung said that over the past time, the State Bank has issued many documents on credit in accordance with the goals of environmental protection, carbon emission reduction, towards green growth. On the part of credit institutions, they have also shown great interest in the responsibility of developing green credit, developing preferential credit granting policies for customers with production and business plans and projects that meet the objectives. green growth target.
The State Bank's data shows that, as of November 2021, there are 67 credit institutions implementing "green credit", outstanding loans for green projects account for more than 4% of total outstanding loans. the whole economy, an increase of 0.46% compared to 2020. However, the outstanding debt for the textile and garment industry is only about VND 145,000 billion (an increase of about VND 5,000 billion compared to the end of 2020), accounting for nearly 1.5 % of total outstanding loans to the economy.
With the goal of green growth and sustainable development, in addition to the economic efficiency factor of the business plan, credit institutions will aim to finance credit for green economic sectors, protect the environment and protect the environment. school.
Dr. Nguyen Quoc Hung affirmed that the goal of greening production, improving responsibility and fully implementing regulations on environmental protection in production is an urgent and strategic requirement of the textile and garment industry in order to achieve this goal. improve the efficiency of banking operations and attract investment capital, especially bank credit capital.
According to Ms. Hoang Thi Thanh Nga, Head of WWF's textile industry, there are four main reasons for the need for the "greening of textiles" program for Vietnam. First, in order to take advantage of the opportunities of tariff exemption/reduction of FTAs ​​with Europe and other countries (EVFTA, CPTTP), Vietnam needs to ensure the requirements of the FTA regarding the source of raw materials (from fabric or yarn onward). , ensuring environmental - social standards).
Along with that, to ensure water security, energy, and international commitments on climate change, the Government is tightening regulations and tariffs related to water, energy and chemical use. At the same time, local authorities are also very careful about the environmental impact of textile projects when granting investment permits.
In addition, more and more brands are committing to sustainability goals and setting clear criteria for their supply chains. In particular, Vietnam is losing its traditional competitive advantages (cheap prices, low requirements for FDI) and it is necessary to create a new competitive advantage by converting to manufacturing in Vietnam in a sustainable way. /.