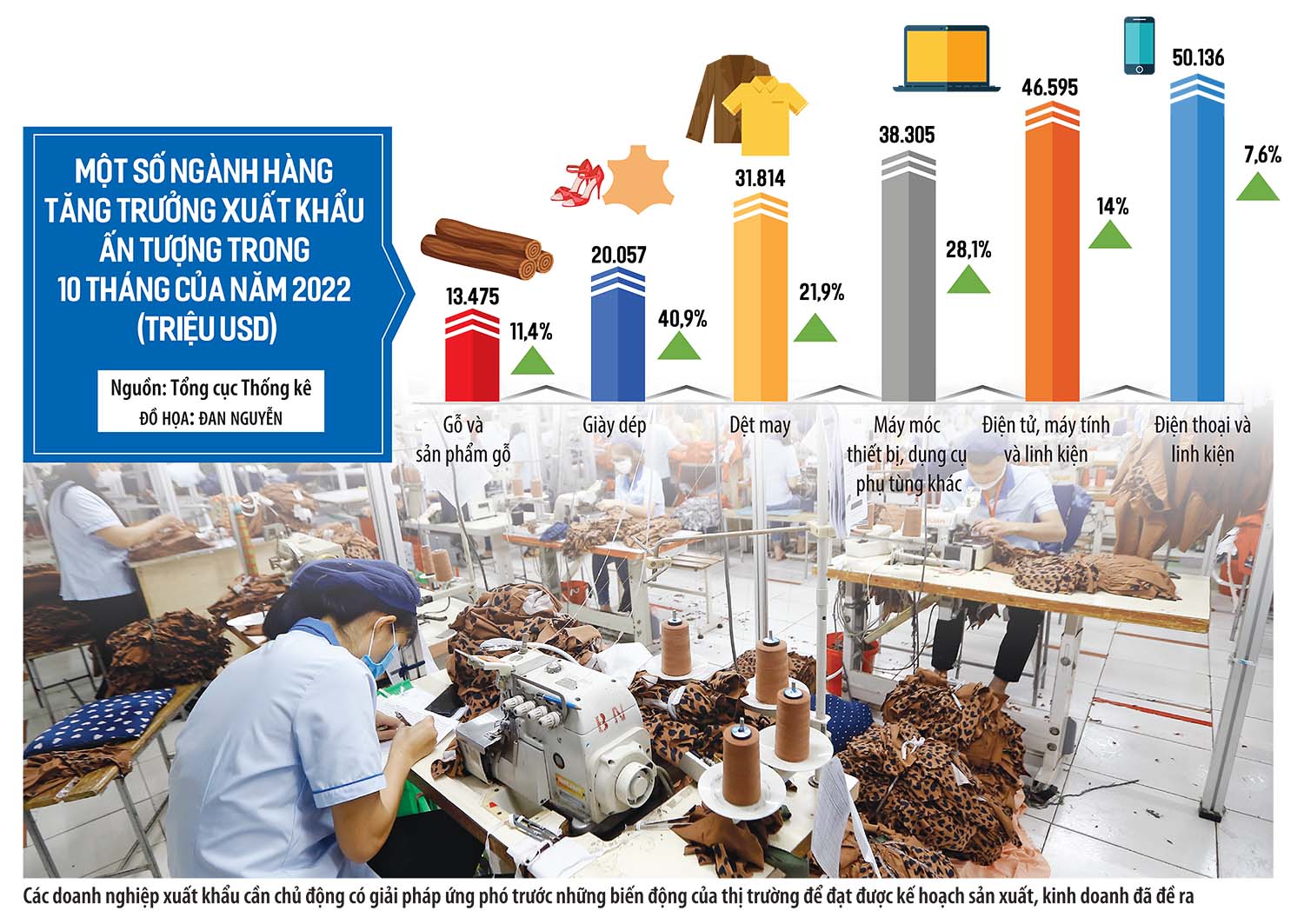 A record trade surplus of 9.4 billion USD
According to the latest statistics from the General Statistics Office, the country's total import and export turnover since the beginning of the year has reached about 616 billion USD. Thus, just over 50 billion USD is still short of the figure of 2021. In which, the total export turnover reached over 312 billion USD, the trade surplus recorded a record level of 9.4 billion USD, while the same period in the same period last year. In 2021, the trade balance of goods will have a deficit.
After nearly 10 months of the year, there have been 32 items with export turnover of over 1 billion USD, the growth focused on Vietnam's strengths and well exploited free trade agreements (FTAs). ), such as textiles (up nearly 24%), leather and footwear (up 36%).
Referring to Vietnam's import-export growth in the past 10 months, Minister of Industry and Trade Nguyen Hong Dien assessed: "Vietnam already has a business system, including FDI enterprises and domestic enterprises with potential good production capacity and export capacity. In the context of the world's supply disruption in both raw materials and production, causing shortages of all kinds of goods, Vietnam opened the door at the right time, taking the opportunity to accelerate exports.
Some items that take advantage of high prices to boost exports include: chemicals, plastics, fertilizers, steel...
Besides, the coffee industry has also taken the opportunity to increase exports. In the past 10 months, Vietnam's coffee exports have reached nearly 3.3 billion USD (up 33.4%); The average export price of coffee in 10 months signed by enterprises is 2,400 USD/ton, an increase of nearly 15% over the same period.
Previously, Mr. Le Duc Thanh, Director of the Department of Information Technology and Customs Statistics (General Department of Customs) also highly appreciated the import and export results. "For many years, we have not achieved this growth figure. The impressive export growth and record export surplus clearly show the special export development of 2022," said Mr. Thanh.
Notably, export turnover to major markets of Vietnam increased, such as the US (up 22.6%), South Korea (up 16%), Japan (up 21.3%). Large order houses admitted, after the events of the Covid-19 epidemic in the southern production centers, businesses quickly resumed production. In particular, entering 2022, Vietnam's exports will continue to benefit from the shift of many production orders in the context of China pursuing a tough anti-epidemic policy.
Efforts to "finish the finish line"
Export turnover of three-quarters of the way in 2022 of many key export industries has achieved good growth, but instability and difficulties are still standing. Businesses are still facing market fluctuations, transportation costs have remained very high since the outbreak of Covid-19.
Mr. Than Duc Viet, General Director of Garment 10 Corporation admitted, there has been a decline in orders for the remaining 2 months of 2022, even the first half of 2023. Enterprise's solution in the context The difficulty of large orders is to focus on production adaptability to small but high-value orders and require complex structures, which is not easy for many suppliers to do.
Commenting on the textile and garment market in the last months of the year, Mr. Cao Huu Hieu, General Director of Vietnam National Textile and Garment Group (Vinatex) shared that in the fourth quarter of 2022, Vietnam and the world economy are still facing many difficulties. Meanwhile, yarn demand and selling price are still low, yarn enterprises have not had orders in November and December. The garment industry is also facing more difficulties. Most new sewing units receive production plans until mid-October, orders for November and December lack about 35-50% of capacity, or have orders, but fierce price competition…
Vinatex leaders noted that businesses should base on the situation of domestic and foreign markets to promote early 2023 business programs and plans; take measures to prevent negative market situations as well as unpredictable fluctuations of the financial market and interest rates.
As an enterprise exporting food materials, Asia Raw Materials Group (AIG) also clearly feels the difficulties in production and business at the end of 2022 and 2023. Specifically, the increase in USD price will affect adverse effects on imports, the supply chain is still at risk of disruption.
In that context, Mr. Le Nguyen Doan Duy, AIG Business Development Director, said that applying high technology to production will help businesses optimize productivity and improve efficiency.
From a macro perspective, Minister Nguyen Hong Dien emphasized that although achieving positive results and high export growth, it is not really sustainable due to the lack of balance in the export market structure. structure of exported goods and structure of export subjects. Import-export still depends on a number of large and potentially risky markets. The export capacity of enterprises with 100% Vietnamese capital, especially small and medium-sized enterprises, is still not high.
Accordingly, the Minister proposed solutions, continuing to promote exports, strengthen appropriate import management, ensure a harmonious and sustainable trade balance, promote official exports in association with industry restructuring. row.
The Hai
https://baodautu.vn/xuat-khau-ung-pho-voi-bien-dong-thi-truong-de-ve-dich-d176894.html
baodautu