Overcoming many difficulties in 2021, the manufacturing and exporting business community has a firm stance and sets high expectations in 2022 when the number of orders increases.
However, the constantly increasing production and logistics costs are "eroding" the profits of enterprises.
Good news about export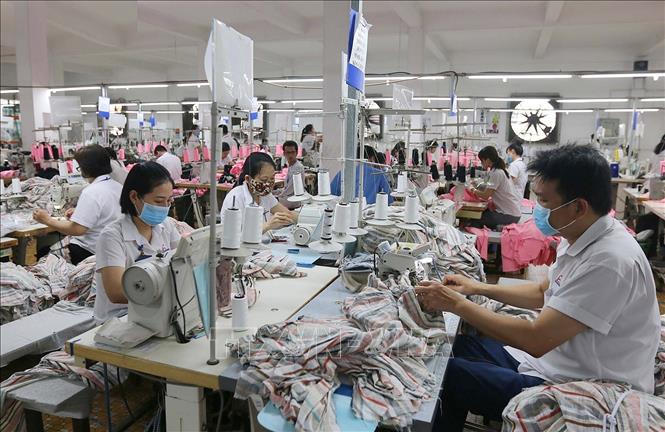 Garment production at Phuong Nam Garment Import-Export Trading Joint Stock Company (Go Vap District). Illustration: Thanh Vu/VNA
After 3 months of "the new normal" with efforts to restore production, many industries recorded positive signals from the market when there were many export orders at the beginning of the year, some businesses had orders to midyear.
Mr. Pham Xuan Hong, Chairman of the Board of Directors of Saigon Garment 3 Joint Stock Company, Chairman of the Ho Chi Minh City Textile, Embroidery and Knitting Association, said that in 2021, there will be a time when Southern businesses will be interrupted. production, had to move some orders to the North but still basically meet orders for customers. Thanks to its flexible adaptability, Vietnamese textile and garment partners are still highly appreciated by partners and continue to sign new orders as soon as production is restored.
Since January, textile and garment enterprises have had orders until the end of the first quarter, many enterprises have had orders until the middle of the year and agreed with customers on production and supply plans for the whole year of 2022. With the number of orders existing goods, the textile and garment growth rate in 2022 will be over 10% compared to 2021, reaching 42-43 billion USD.
As for Saigon 3 Garment Joint Stock Company, the revenue is expected to reach about 75 million USD, up about 30% compared to 2021. The US and Japan are still the two largest markets with stable and increasing orders.
Similarly, Mr. Pham Van Viet, Chairman of the Board of Directors of Viet Thang Jean Co., Ltd. said that as a company with typical products and high technology, the number of orders is quite stable. Currently, the company has orders until the end of the second quarter of 2022 and is focusing on expanding production to increase export output. If the current production rate is maintained, the company's growth rate will be 15% higher in 2022 than in 2021.
With the consumer plastic industry, Mr. Tran Viet Anh, General Director of Nam Thai Son Import-Export Joint Stock Company, said that in more than 3 months of "3-on-the-spot" production, only about 20-30% of the enterprises only production was maintained, but the output was also very low. The previous inventory of the enterprise had been completely consumed while the consumption demand was increasing. Therefore, when production is restored, most businesses have good output.
In early 2022, Nam Thai Son Company had continuous export orders, most notably an order of about 4,000 tons to the European market, with a value of more than 8 million USD. In addition, orders from the US market also increased a lot. This comes from the fact that the manufacturing industry in the US is being affected by the increasing number of COVID-19 infections. Meanwhile, China, which is a large supplier of plastic products to the US market, also reduced output, so orders poured into Vietnam.
In the group of agricultural products, cashew exports are forecast to continue to grow well in 2022 after setting two records in both output and export value in 2021.
According to the Vietnam Cashew Association, one of the markets with high growth potential for cashew nuts is the EU, with export output increasing by about 15% and value increasing by about 10%. Based on supply and demand factors, export prices tend to recover from the end of 2021 and the beginning of 2022.
Vietnam is currently the largest supplier of cashew nuts to the EU and the effective EVFTA Agreement brings the import tax on processed cashews from Vietnam to the EU to 0%. This is an advantage that helps Vietnam's cashew industry increase exports to the EU and expand its market share not only in the main market but even in niche markets.
Logistics costs "corrosion" profits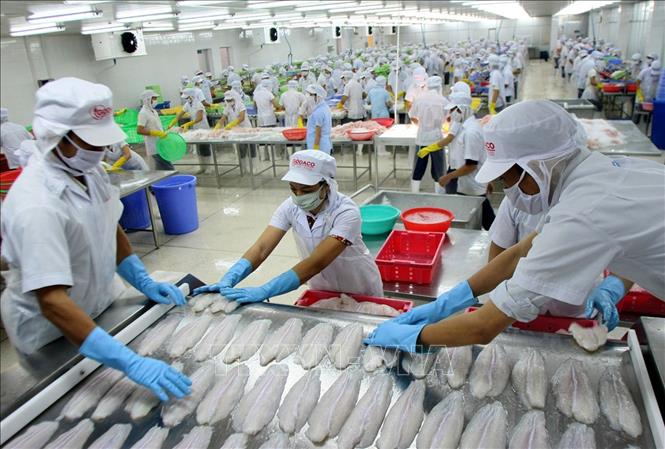 Seafood processing at Go Dang Joint Stock Company (AGD) in My Tho Industrial Park (Tien Giang). Illustration: Huy Hung/VNA
Many seafood exporters share that they are having a "headache" because of many export orders, but the freight rate continuously sets new peaks. Specifically, sea freight to the US from 3,000 USD/container before the COVID-19 epidemic has now increased from 13,000-14,000 USD/container to the West coast, and to the East coast is 17,000 USD/container. Freight to Europe ranges from 12,000-14,000 USD/container. Similarly, freight rates to the Middle East are currently between 10,000 and 11,000 USD/container.
In addition, businesses also have to bear a series of surcharges such as loading and unloading fees, storage, clean fuel, container balance... Shipping time also increased by 15-20 days on average compared to before, many orders Delivery to customers is still 2-3 months late, reducing quality and shortening usage time.
Mr. Truong Tien Dung, General Director of Saigon Seafood Trading Joint Stock Company (APT) said: Input costs from raw materials, auxiliary materials, and packaging have all increased, plus sea logistics costs anchored in Vietnam. High level is the biggest challenge of most manufacturing and exporting enterprises today. In the past, when production costs were stable, a food business could achieve a profit of 7-10%, which is quite good, but now with the simultaneous increase in costs, the business is almost not profitable.
According to Mr. Truong Tien Dung, despite the increase in costs, it is difficult for food businesses to raise prices because they have signed export contracts in advance and keep prices stable for domestic consumer products. Businesses are trying to maintain production to create jobs for workers and important customers, but most of them are not profitable, even if they produce a lot, they may have to make up for losses.
Meanwhile, Mr. Tran Viet Anh shared that current businesses, even though they are running at full capacity, do not have enough goods to deliver, but in fact can only produce about 60% due to lack of labor and slow arrival of raw materials.
"Transportation rates have increased continuously for nearly 2 years, combined with supply chain disruptions due to container shortages and seaport congestion, which slows down the return of raw materials to Vietnam. The price of raw materials also increased by 30-40%, leading to high production costs.
Meanwhile, the selling price remained almost unchanged, causing many businesses to adjust their production pace to slow down to wait for the price of raw materials and freight to "cool down" which may affect the overall growth rate. Mr. Tran Viet Anh stated the general situation.
In the same opinion, Mr. Pham Xuan Hong said that the cost of raw materials and logistics costs increased, affecting the price competitiveness of Vietnam's textile and garment. Production costs increase, but negotiating to increase selling prices now will be very difficult, especially in the context that global consumers' incomes have been affected after 2 years of the pandemic, although shopping demand is still high.
According to Mr. Pham Xuan Hong, most businesses strive to stabilize production after being heavily affected by the COVID-19 epidemic, creating jobs and taking care of employees is the top priority, profit is the top priority. must be ranked later. Therefore, businesses accept low profits, can break even at the present time to maintain competitiveness and wait for the right time to adjust the selling price reasonably.
Xuan Anh (VNA)
https://baotintuc.vn/kinh-te/thi-truong-khoi-sac-nhung-doanh-nghiep-van-kho-co-lai-20220117120637632.htm
baotintuc